Beeper Gift Card – Zumiez
We spent way too long on trying to figure what on earth is the deal with this, admittedly, really cool card.
This looks like a real deal old-time pager from the 90s or so. It has a couch on the screen and the 100 emoji.
We have been thoroughly confused on the idea behind this gift card design so we did the normal thing, we tweeted at Zumiez.
Hey @zumiez, we love this gift card design but no one in the office understands what the message means. Can you help? pic.twitter.com/5So0tVqpnN

— CardCash.com (@CardCash) May 30, 2018
As of this writing, they still have not replied.
So we took the next reasonable step and emailed their customer service asking about the card:

We didn't really understand that so we asked for further clarification:

Their answer kind of rocks: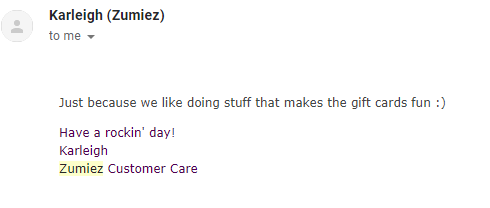 But still leaves us confused.
But you know, we can handle it, it is something about paging someone about chilling on a couch. That's good with us.
We couldn't it find it for purchase online but you can buy standard discounted Zumiez Gift Cards at CardCash: Zumiez Gift Cards